Pottery Throwing Experiences FAQ's
Below are some frequently asked questions about our pottery throwing experiences:
What do I need to wear?
Wear clothes that you don't mind getting dirty – you will be playing with wet mud after all!
Do I have to bring my own apron?
If you have a wipe down apron that is great, otherwise you can use one of ours.
​

What will I be able to make in my throwing experience?

Please put aside any ideas of making vases or anything other than a small pot! When you see potters they make it look *so* easy, but it's a quite a challenge to get the clay to behave. We hope that you will find it great fun and be proud of your little creation, but if you have real aspirations to learn to throw then do get yourself on our five week throwing course.
How many people are on each throwing experience?
We have a maximum of five places per throwing experience, so you won't be alone trying to master the wheel.  We find that having a few people on the wheels makes it even more fun, and lessens the pressure on any one individual, as sometimes the clay really does want to be naughty and not behave itself at all, so having a giggle with others is what it is all about. Equally, you can beam with pride when the clay suddenly turns into a pot in your hands.
Can I take my pot home with me?
When you finish your experience the pot will still be damp clay, but shaped as a pot. We will carefully dry the clay which usually takes about a week. Then your pot will go into the kiln for its first firing which turns the clay into ceramic. After that, the pot has a glaze applied which will make it frost proof and food safe, (ideal for those peanuts or olives!), it is then fired for a second time. The whole process takes about 4-6 weeks and we'll contact you to let you know when your pot is ready for collection.
Explore Clay Pottery classes and workshops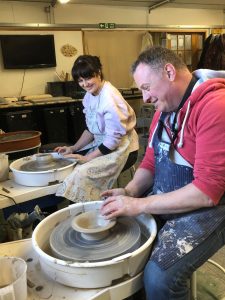 Our throwing experience sessions are a perfect 2 hours for those who are completely new to pottery and wheel throwing.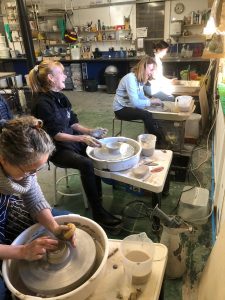 Wheel Throwing Courses
Aimed at both beginners and those who wish to improve their throwing skills.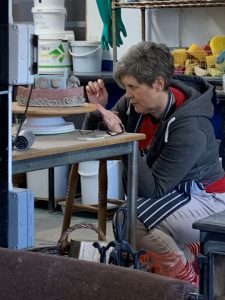 Clay Classes
We offer small classes of 8 people. The classes are suitable for beginners and more experienced alike.
In this step by step guide, we take you through the 3 stages of clay and the decorative glazes and materials available and most appropriate for each stage of ceramics.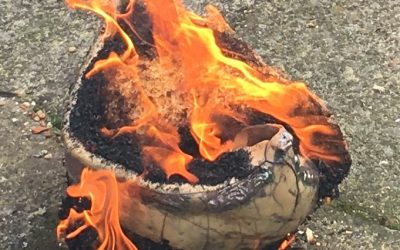 In this step by step guide, we take you through the equipment, materials and process you need to do your own home smoked firing.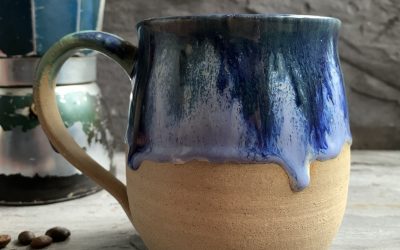 This step by step guide takes you through our 8 point plan for you to do your own home throwing.
Contact Us
07931 351183
info@cheshireclay.com
Cheshire Clay Studio,
Lowes Farm
Moss Lane
Middlewich
Cheshire – CW10 9NG