One day Gilding Workshop with Lise Moorcroft
Saturday 17th June 2023
10.00am to 3.00pm
Gilding is an unusual and striking way to massively enhance your ceramic creations
Using metallic papers you can highlight decoration either subtly or with panache.
Lise Moorcroft is skilled in this fascinating aspect of surface decoration and workshop participants will discover a whole new world opening up to them as they gild both finished ceramics or even just bisqueware.
Restricted to 10 participants this one day workshop is an absolute must attend for anyone wanting to strike a pose with their creations.
For more information please contact us on 07931 351183 or email us at cheshireclaystudio@gmail.com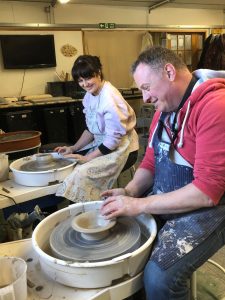 Wheel Throwing Experiences
Our throwing experience sessions are a perfect 2 hours for those who are completely new to pottery and wheel throwing.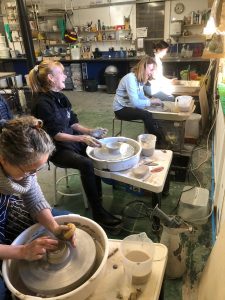 Wheel Throwing Courses
Aimed at both beginners and those who wish to improve their throwing skills.
Open Studio
Cheshire Clay Studio are proud to be able to display our class members and class leaders work through Open Studio weekends.
Step by step guideDecorative Materials for CeramicsThe 3 stages of ceramicsRaw or Greenware.  This is the basic clay that we use to model. It is unfired. Bisque or Biscuit ware.  This is where the clay has received a firing up to 1000 degrees. It turns the raw clay...
Contact Us
07931 351183
cheshireclaystudio@gmail.com
Cheshire Clay Studio,
Lowes Farm
Moss Lane
Middlewich
Cheshire – CW10 9NG