Monthly Subscription
Studio Membership of Cheshire clay Studio 
Studio membership is reserved for those people who have already attended either a five week throwing course or a six week clay course.  This is an invitation only service as membership places are limited.
Studio membership is based upon a monthly subscription which allows members to attend 4/5  three hourly sessions per month (calendar months) a total of 48 sessions per year.  36 of these sessions are class leader led, allowing less experienced ceramicists to have help and support. There are a further 12 unsupported sessions per year.  
Members have full access to the studio and its facilities on Tuesday mornings, afternoons and evenings, Wednesday afternoons and Thursday afternoons and evenings.  They can choose whenever they wish to come during those times.  Sessions can be banked, allowing members to go on holidays or have longer absences without losing their sessions in any given year.  
Members can choose which clay bodies they wish to use from a choice of 6 different bodies and pay for their clay as they use it. Each member has a designated storage space for their clay and tools.  Studio glazes and materials are included in the membership subscription.
£1176 per year (payment in advance monthly by subscription.)
If you are already an experienced ceramicist and just needing studio space, then please contact us directly.
6 Week Stand alone Clay Course
Our six week stand alone clay course is the entry point for the wait list for our member-based regular clay classes.  We have a programme to cover many of the basic aspects of handbuilding and there are sessions on throwing and glazing as well. This course will more than likely fire even more enthusiasm for all aspects of making with clay, and is an excellent springboard onto the regular clay classes where you will be able to experiment with even more exciting projects.
£250.00 per course includes all materials and firings
WANT TO KNOW MORE? If you would like to have more information before booking onto any of our courses or classes then do fill in our contact form and we can get in touch to chat.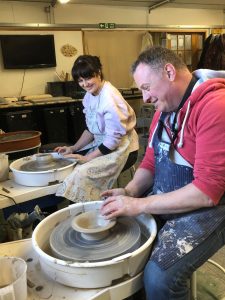 Wheel Throwing Experiences
Our throwing experience sessions are a perfect 2 hours for those who are completely new to pottery and wheel throwing.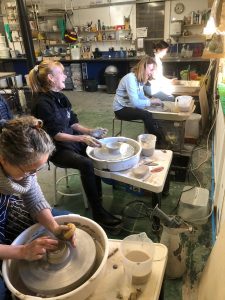 Wheel Throwing Courses
Aimed at both beginners and those who wish to improve their throwing skills.
Open Studio
Cheshire Clay Studio are proud to be able to display our class members and class leaders work through Open Studio weekends.
Step by step guideDecorative Materials for CeramicsThe 3 stages of ceramicsRaw or Greenware.  This is the basic clay that we use to model. It is unfired. Bisque or Biscuit ware.  This is where the clay has received a firing up to 1000 degrees. It turns the raw clay...
Contact Us
07931 351183
cheshireclaystudio@gmail.com
Cheshire Clay Studio,
Lowes Farm
Moss Lane
Middlewich
Cheshire – CW10 9NG