Standalone  6 week Clay Course
A 6 week stand alone clay course for beginners and upwards.
In addition to our regular rolling six week termly classes we offer a six week stand alone course on a Wednesday evening from 6.30-9.00pm.
This class caters for up to 10 participants and covers the range of handbuilding techniques and some throwing. Basic glazing techniques and other decorative techniques are also covered on this evening class.
You will make several projects over the course of six weeks all of which will be fired and finished for you and can be collected after the course is completed.
This is a perfect opportunity to learn and make and to decide if working in clay is something you want to pursue. Participants can then register for the regular clay classes if they wish and will be placed on a high priority wait list for vacancies on these classes.
Dates – 
This course is run on Wednesday evenings – 6:30-9:00pm on the following dates:
Wednesday 6th September to 11th October 2023
Wednesday 1st November to 6th December 2023
Price – 
This course is £250 for the full six week course. This includes all materials and firings.
​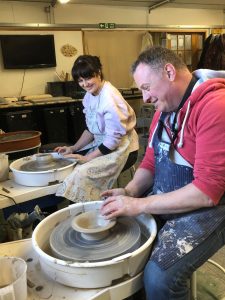 Wheel Throwing Experiences
Our throwing experience sessions are a perfect 2 hours for those who are completely new to pottery and wheel throwing.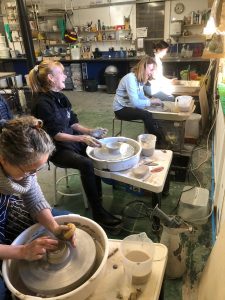 Wheel Throwing Courses
Aimed at both beginners and those who wish to improve their throwing skills.
Open Studio
Cheshire Clay Studio are proud to be able to display our class members and class leaders work through Open Studio weekends.
Step by step guideDecorative Materials for CeramicsThe 3 stages of ceramicsRaw or Greenware.  This is the basic clay that we use to model. It is unfired. Bisque or Biscuit ware.  This is where the clay has received a firing up to 1000 degrees. It turns the raw clay...
Contact Us
07931 351183
cheshireclaystudio@gmail.com
Cheshire Clay Studio,
Lowes Farm
Moss Lane
Middlewich
Cheshire – CW10 9NG