Six week term based clay classes
Wednesday Evenings 6.30-9.00pm
Want to create with clay?
Beginner or novice?
Want the option to do just a six week course, or continue on in the class?
Then our six week term based clay classes are perfect for you!
We design our classes so that participants are taught the main techniques of making and decorating with clay.  Handbuilding, throwing on the wheel and glazing are all included.
Our structured six week programme starts at the beginning of every term for those new to the classes. 
Returners can either refresh their skills by sitting in with new participants, or enjoy working on their own projects, secure in the knowledge that one of our experienced class leaders is there to help and support whenever required.
If the clay bug bites hard (and it often does!) and a termly beginner's class is no longer enough for you, then you can apply to become a full Cheshire Clay Studio member, with year round access to the studio and many other member only benefits.  Or you can remain on your term based clay class. The choice is yours.
Dates – 
This course is run on Wednesday evenings – 6:30-9:00pm
We are now taking bookings for our January/February 2024 course starting on Wednesday January 3rd to Wed February 7th 2024
Price – 
This course is £250 for the full six week course. This includes all materials and firings.  Returning members pay £212 per term which includes all materials and firings.
​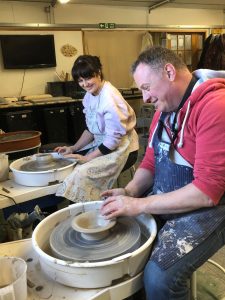 Wheel Throwing Experiences
Our throwing experience sessions are a perfect 2 hours for those who are completely new to pottery and wheel throwing.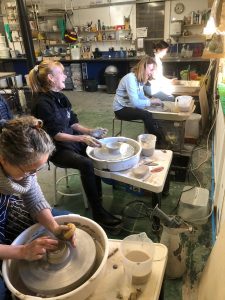 Wheel Throwing Courses
Aimed at both beginners and those who wish to improve their throwing skills.
Open Studio
Cheshire Clay Studio are proud to be able to display our class members and class leaders work through Open Studio weekends.
Step by step guideDecorative Materials for CeramicsThe 3 stages of ceramicsRaw or Greenware.  This is the basic clay that we use to model. It is unfired. Bisque or Biscuit ware.  This is where the clay has received a firing up to 1000 degrees. It turns the raw clay...
Contact Us
07931 351183
cheshireclaystudio@gmail.com
Cheshire Clay Studio,
Lowes Farm
Moss Lane
Middlewich
Cheshire – CW10 9NG